The environmental toll of animal proteins
The carbon footprints of food systems, which include all the emissions from the growing, processing, transportation, and waste of food, are putting important pressure on the environment.
Agriculture and food systems produce one-third of all greenhouse gas emissions, and particularly, animal agriculture contributes to approximately 15% of all greenhouse gas emissions worldwide, accounting for more than 60% of the agriculture, forestry, and land use sector's global greenhouse gas (GHG) emissions 1.
The sector is also the number one cause of deforestation due to soy production and cattle ranching; it uses a third of global freshwater supplies, and it is the largest consumer of antibiotics 2.
All this negatively impacts climate change, becoming a threat to the food systems and affecting food yields, food quality and safety, and food supply.
Moreover, when we take into consideration the current demographic and socio-economic trends, the scenario will become more threatening. Based on projections, our planet will host 9.6 billion people by 2050, leading to increased demand for food, notably for proteins, including animal proteins.
In 2020, have been consumed almost seventy-five kilograms of meat per person 3. This figure, particularly in developing markets, will increase further, driven by population growth and socio-economic changes, notably increased urbanisation, rising incomes, and ageing populations. In fact, given the recognised positive effect of proteins on healthy ageing and diets, ageing populations are also driving demand for proteins.
Under this pressure, our food systems will be further stretched. Hence, rethinking 4 5 food systems 6 to make them more sustainable must be a global short-term objective 7 8.
Can alternative proteins help shift the food system toward a more sustainable model?
Alternative proteins 9 10 can play a critical role 11 and can help reconcile competing objectives, such as ensuring global food security while mitigating climate change 12 13.
Plant-based proteins such as peas and soy, biotechnological innovations, like cultured meat or fungal protein, and novel animal sources, like insects-based, are all considered alternatives to conventional proteins and assessed by risk assessment regulatory agencies as novel food.
In 2020, alternative proteins accounted for about 2% of global protein consumption. This sector is going to grow, led by the plant-based proteins category.
However, its growth in the future is determined by the advancement of technological developments, investments in research and innovation, as well as consumer acceptance and adoption.
How to enable alternative proteins development and consumer acceptance?
Enabling the development of alternative proteins and their acceptance by consumers requires strong political will and the commitment and support of multiple players – governments, scientists, researchers, investors, citizens/consumers, etc.
This collective problem needs political and societal acknowledgement followed by decisive action. Particularly, governments and policy makers must encourage research, development, and commercialisation of these products while designing effective policies ensuring product safety, affordability and a regulatory framework conducive to adopting and scaling alternative proteins as part of a sustainability framework.

Business and financial stakeholders play a role in influencing the allocations of investments and funds. They can facilitate the development and scale of these products.

Finally, consumers are key players as they are at the core of products' acceptance, adoption, and success. To enable and accelerate consumer acceptance, there are equally important aspects to be considered:
First, consumers' adoption will be triggered by having a product available and affordable at a competitive price compared to conventional animal proteins, satisfying consumers' needs and tastes.
Moreover, it is essential to create awareness to resolve concerns and fears while addressing key questions about these innovative products, such as the safety of cell-based proteins and other novel alternatives, the nutritional value of plant-based alternatives as meat-based substitutes compared to conventional meat, etc.
Lastly, it is crucial to understand and consider how consumers make decisions. In recent years, several researchers have focused on creating a more nuanced perspective of human decision-making. These new perspectives in behavioural economics and bounded rationality embed time and cognitive constraints. As a result, recognising that consumers make decisions mostly under the bounded rationality perspective and engaging consumers using effective communication tools is key for the acceptance of these breakthroughs that, although somehow scaring, can positively contribute to food security while respecting the planetary boundaries.
Conclusions
If we look at the impact on GHG of the top ten animal-based foods compared to the top ten plant-based food commodities, we can get the relevance of shifting food systems to more sustainable ones14.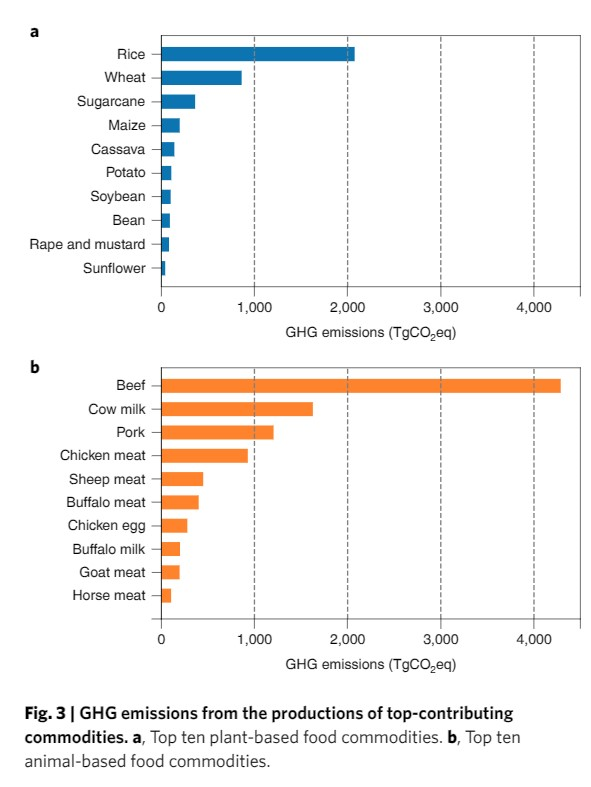 Alternative proteins are not limited to plant-based15. There are several categories, including novel food, microorganism-based, and animal cell-based alternatives to animal meat, fish, and eggs, and each one comes with different costs, impacts on emissions, nutritional value, health effects, safety level, etc.

Although it is important to understand and assess the impact on the environment and health, as well as the economic and societal value of each category, alternative proteins, on the whole, represent an opportunity for food systems sustainability and, as such, they deserve political and financial support to harness their full potential in transforming food systems for better.

By Felicetta Catanzaro
Political scientist and international affairs professional
Alumna of our Executive Degree in Advocacy in International Affairs (2016)
Read her recent interview here.
REFERENCES
1. Agriculture, forestry and other land use emissions by sources and removals by sinks (fao.org)
3. Food for Thought: The Protein Transformation | BCG
4. Climate Change and Food Systems (un.org)
5. Rethinking our food systems: A guide for multi-stakeholder collaboration (fao.org)
6. The Global Food System: Trends, impacts, and solutions (metabolic.nl)
7. Sustainable food systems: Concept and framework (fao.org)
8. Guest Article: Why Fixing Food Systems is Crucial for Meeting the Sustainable Development Goals | SDG Knowledge Hub | IISD
9. Climate change: Do I need to stop eating meat? – BBC News
10. Food for Thought: The Untapped Climate Opportunity in Alternative Proteins | BCG
11. Alternative proteins play a critical role in a more sustainable food system – EconoTimes
12. Climate Change and Food Systems (un.org)
13. Rethinking our food systems: A guide for multi-stakeholder collaboration (fao.org)
14. Global greenhouse gas emissions from animal-based foods are twice those of plant-based foods | Nature Food